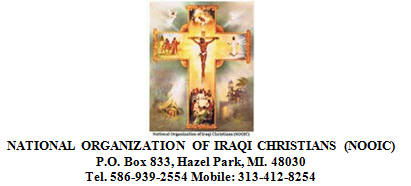 TO WHOM IT MAY CONCERN: February 09, 2012
QUESTION of CONCRN FOR IRAQI GOVERNMENT OFFICIALS
That I Tahrir Kalasho CEO and Founder of National Organization of Iraqi Christians (NOOIC) a Non Profit 501(c)(3) see http://www.nooic.org/index.1.jpg and assert that all being described herein is true and correct pursuant to 28 USCA 1746 seq., and states as follows questions of concerns to Officials of Iraqi Government:
QUESTION: 1) Do you agree to the protection & full equal rights/treatments etc. to All Iraqi Minorities in particular the Iraqi Christians, this is essential & it must be Preserved, and since Iraq's Christians have been & continue to be a constant target for executions, assassinations, discrimination, kidnapping etc. these heinous crimes committed toward Iraq's Christians are racially committed due to their Christian Faith (religion belief), in order to drive them out of Iraq. The U.S. Administration, & the World Leaders must not allow this to continue they are Serious Violations of various Human Right laws; also in violations of various Customary International Laws; Universal Declaration of Human Right Laws; Among many other recognized National & International Common Laws, etc. etc. A start is to have Autonomous Region and to Self Rule within Nineveh Plains Province, Iraq, for the Iraqi Indigenous Christians, where Iraqi Jewish may feel comfortable & safe to go to Iraq & other Minority Group, the Nineveh Plains Province should be provided to ALL Iraqi Minorities groups including Iraq's Christians the Indigenous Christians that still speak the same exact language of Jesus Christ had spoken, which the Iraqi Indigenous Christians entitles them for at least 10% of Entire Iraq's Oil Revenue (Retroactive) & Proceeds, as the Iraqi Indigenous Christians & Iraqi Jews were in Iraq long before the Iraqi Muslims.
Do you Agree with the Above in Full? If not Explain Why not? If you agree in full to the above, why its not being implemented??
Some Proof Of Heinous Crimes Committed toward Iraqi Christians. Evidence Target for Execution, Kidnapping for ransom, Torture, Murder constant Persecution etc. a reincarnation of previous Genocide http://t.co/iSK82Uv Also, Unspoken Crimes against Humanity Committed against the People of Iraq Detailed and Documented Report (Dated: 02-09-2012) see link http://www.globalresearch.ca/index.php?context=va&aid=29162 Also American Middle East
Christians Congress (AMECC) http://www.makedonija.tv/middle_east_christians.htm
That ALL Iraqi Christian inside War Zone Iraq are constant Target for Execution, Kidnapping for ransom, Torture, Murder, constant Persecution etc. Simply because they are Christians unless the Christian would Convert to Muslim Religion see H.RES. 1725 Bill http://frwebgate.access.gpo.gov/cgi-bin/getdoc.cgi?dbname=111_cong_bills&docid=f:hr1725ih.txt.pdf
That Any Christian in Iraq unless they are Part of Iraqi Government that have their Owned Armed security personal is a constant Target for Execution, Kidnapping for ransom, Torture, Murder constant Persecution etc. see http://www.persecution.org/2010/07/30/congressman-us-turning-blind-eye-to-persecution/
Please Answer the One Question above in full. Feel free to contact me for additional Comment or Clarification for the above. Thank you.
Very Truly Yours,
<![if !vml]>

<![endif]>
__________________________________________
National Organization of Iraqi Christians (NOOIC)
Tahrir Kalasho CEO/Founder
Non Profit http://www.nooic.org/index.1.jpg
NOOIC E-Mail: Tkalasho@Nooic.org
Personal E-Mail: Tkalasho@gmail.com